Hello. I am trying to set antennas into Linear Array (ULA) in order to improve accuracy, but I can not quite comprehend how to read the DOA angles correctly. I have created this beautiful image, which shows the linear antenna and 4 measurement cases:
Test1 - the radio is 45 degrees relative to the array line
Test2 - 90 degrees
Test3 - 135 degrees
Test4 - 180 degrees (the radio is on the line with the array)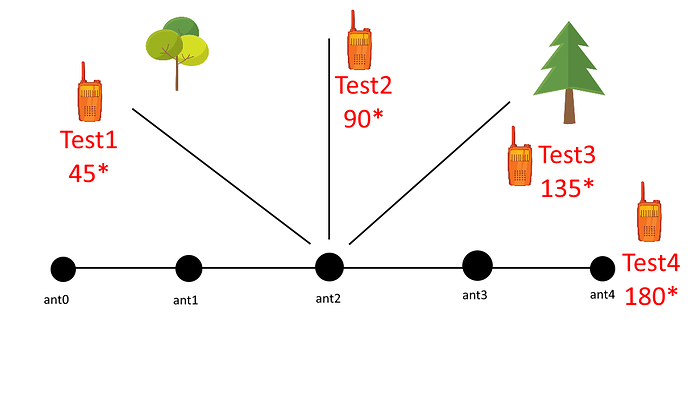 What would be the possible DOA in each case? Is it:
315 or 225 degrees?
360 or 180 degrees?
45 or 135 degrees?
90 degrees? Or 90 or 270 degrees?
I've done a similar test, but got ambiguous results: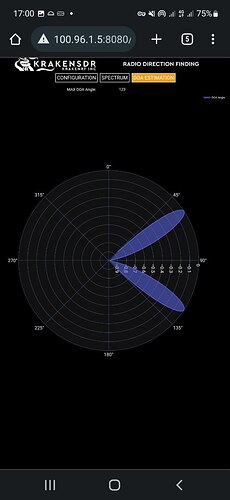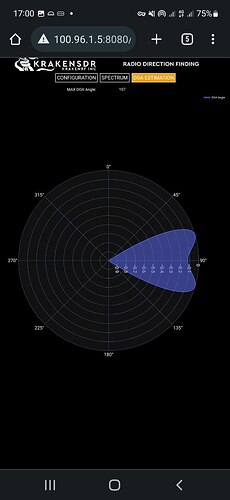 I have noticed that the signal is mirroring over the line 90*-270*, i.e. the Kraken is not sure where it is - at the front or behind the array (which is fine). But is line 90-270 the line of the array? I.e. is 90* DOA mean that the radio at the left from the antenna array, 180* - at the front (or behind), and 270* - at the right?
Thank you