Hello. I've run some DOA accuracy tests with two scanners and custom antennas (ULA, 5 dipoles with lowest SWR at 424 MHz + LNAs) and noticed a DOA deviation that changes with the frequency. What I mean is that at frequency X the DOA would be Y, but at frequency X+10 the DOA would be slightly different, but stable - on each PTT press it shows the same result. The distance between both the two scanners and the radio source is around 1 km. This is a village area, so there is a certain amount of obstacles like trees and small houses, but each scanner antenna and signal source are on the top of the 10m mast.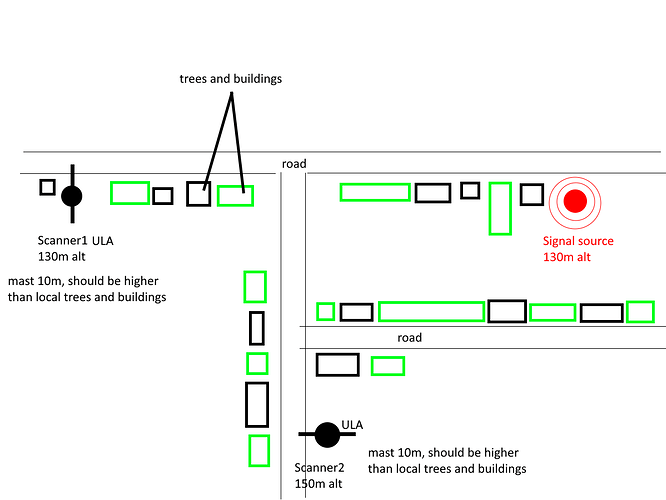 This is the data I got (columns are frequency, DOA of the 1st scanner, DOA of the 2nd scanner):
470MHz 171° 118°
460MHz 174° 117°
450MHz 175° 107°
440MHz 172° 111°
430MHz 170° 109°
420MHz 167° 106°
As you can see, there is a certain correlation between the frequency and DOA angle (with the exceptions), i.e. DOA kind of shifts counter-clockwise when you lower the frequency and vice versa.
The same effect is much less noticeable at longer distances, up to 10 km, but still exists.
Most likely it is related to the natural obstacles like tall trees, but I was worried that I messed up with the phase-symmetry of antennas or cables (even though I checked them with my VNA), or maybe there is another reason for such behavior.
P.S. what is the acceptable deviation of cable length (or phase value) or dipole size at 400-500 MHz? I.e. what are the acceptable phase-symmetry requirements?