Hello. Yesterday, I made some tests with the static Arrow-made antenna. There are 2 radio repeaters nearby (~160 MHz), and I know the exact location of each of them. Firstly, I told KrakenSDR to listen to the frequency of Repeater1, then I rotated the antenna so that the measured DOA was equal to the expected one, assuming that now the antenna is facing North correctly. Then, I switched to the frequency of the Repeater2 and the DOA was noticeably inaccurate, probably 7-10 degrees more western than it should have been.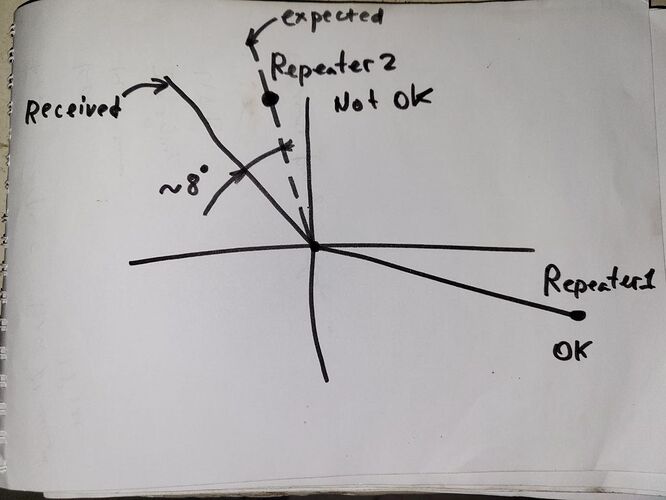 After that, I measured the length of each of the 5 cables (made by Kraken, not Arrow) with my VNA, and according to the measurements, one was 4 mm longer than the others.
Previously, I did the same DOA test with the other set of KrakenSDR, antennas, and cables, and the results were more accurate, probably 4-6 degrees more western in comparison to the 7-10 degrees I got this time. I haven't measured the cables of that set though.
So my questions are:
Could one cable (4 mm longer than others) cause such a skew at 160 Mhz?
What else can cause such a skew? The skew of 7-10 degrees to the west was quite stable. So it was not +10 or -10 each time I press PTT, it was -10 constantly.
It is said that KrakenSDR has max precision of 8 degrees. Is this a purely software limitation, i.e. it is not possible to calculate DOA more precisely, or I can improve it by re-measuring antennas, cables, etc., and reduce it to, for instance, 5 degrees of accuracy?
Thank you